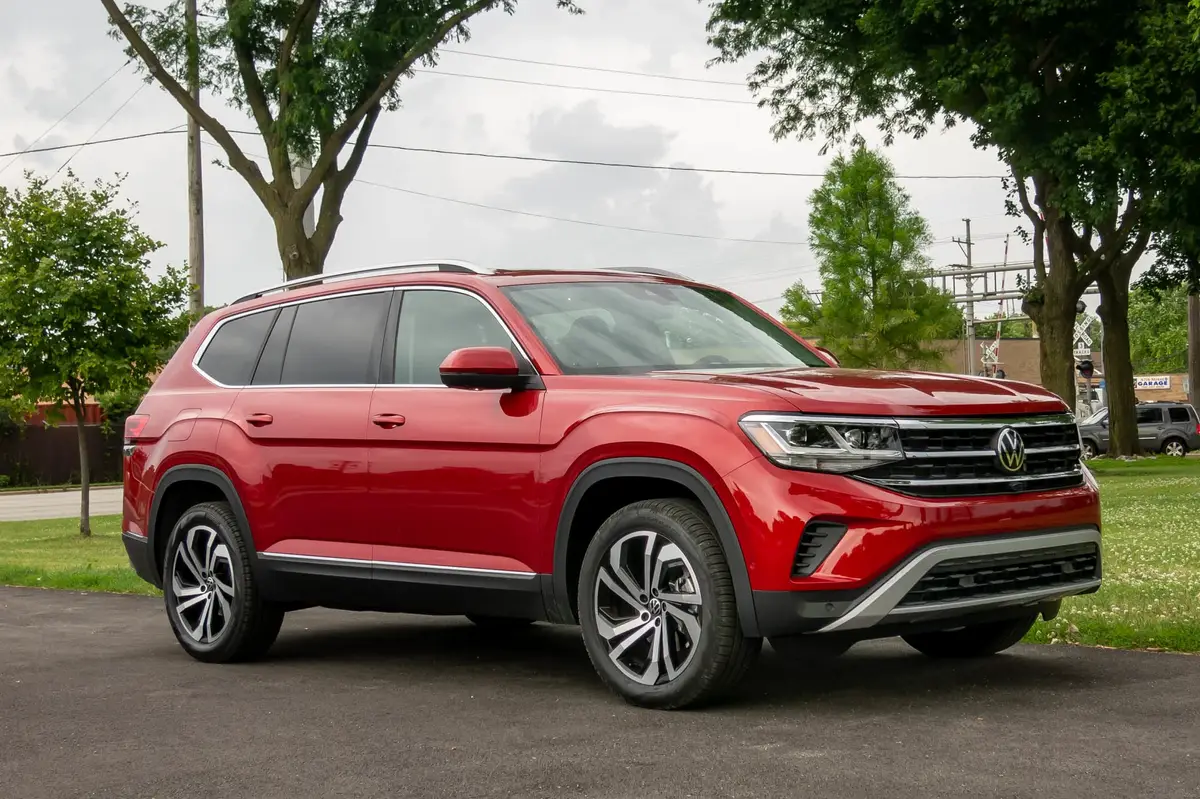 The verdict: Updated styling makes the 2021 Volkswagen Atlas more palatable in superficial ways, and its fundamental strengths endure well beyond that.
Versus the competition: If your motivation is sheer practicality, family SUVs always lose out to minivans — a necessary sacrifice, some might argue, to avoid driving a four-wheeled toaster. The Atlas doesn't quite eliminate the sacrifices, but it minimizes them as much as any mid-size SUV could.
Volkswagen updated the Atlas for 2021 with smoother styling, more technology and wider availability for its base engine, a turbo four-cylinder. A non-turbo V-6 remains available on all but the base trim level; both engines pair with an eight-speed automatic transmission. Stack up the trims here, and compare the 2020 and 2021 Atlas here. Three standard rows of seats carry up to seven people (six if you get second-row captain's chairs). New for 2020, the Atlas Cross Sport is a related two-row model covered separately on Cars.com; compare the two SUVs here.
Confusingly, Volkswagen is also producing a half-year addition — the 2021.5 Atlas — with some minor changes I'll detail below. You can find information on that model on the Atlas' 2021 model-year page. We tested a well-equipped 2021 Atlas with the V-6 and AWD, but we've also evaluated front-drive and four-cylinder versions.
Related: Volkswagen Announces Prices Changes for Most of Its 2021 (and 2021.5) Lineup
Visual Tweaks Add Up
Styling is subjective enough that I seldom comment on it, but the Atlas' visual tweaks for 2021 make it a palatable SUV — something I couldn't say for the 2018-20 model. I found that version blocky and busy, even after Cars.com's Editorial department owned one for a year. 
In the refresh, Volkswagen did some much needed rounding to the elements up front, akin to what you see on the Cross Sport. Gone are the cheese-grater crossbars on the Atlas' grille, replaced by a new grille with leaner, simpler bars. They extend into headlights with curvier frames for 2021, and the whole of it makes for a look that's less squared off. The bumper cladding retreats from its erstwhile prominence, and available R-Line trims add prominent outboard openings. Less has changed in back, where the Atlas remains as boxy-looking as ever — a missed opportunity, but I'll take what happened up front as good enough.
Ride and Handling: A Successful Formula
Three-row SUVs can safely err on the side of ride comfort over handling chops — parents aren't exactly carving up on-ramps in these rigs — but the Atlas has always stood out for blending the two. Suspension and steering tuning carry over unchanged for 2021, Volkswagen officials told me, and that's just fine. Turning the steering wheel requires light effort but provides quick, decisive turn-in. Quick maneuvers induce some initial body roll, but the suspension maintains reasonable composure through sweeping curves. 
Rivals like the Hyundai Palisade and Kia Telluride, both of which are newer on the scene, feel more tied down in terms of body control, but if sheer comfort is your goal, the Atlas is about as good as it gets from a mass-market mid-size SUV. What's more, that was with our test car's 20-inch wheels, which add some impact harshness — though nothing too objectionable — versus the 18s with higher-sidewall tires that were on our 2018 Atlas. Shock absorption over sewer covers shows polish, as does isolation at highway speeds. 
The R-Line doesn't change suspension tuning, but some R-Line trims get 21-inch wheels with low-profile tires, which could add harshness themselves. Test-drive for yourself to see.
Drivetrains: Less So
The Atlas' base engine, Volkswagen's workhorse turbo 2.0-liter four-cylinder, achieves 235 horsepower and 258 pounds-feet of torque on premium gasoline. Regular gas is fine, though output will likely decline (a VW spokesperson declined to say how much). The base engine is now available with front- or all-wheel drive; the 2018-20 Atlas paired the 2.0-liter only with front-wheel drive.
We previously evaluated the turbo four-cylinder in the front-drive Atlas, and it delivered enough low-end power to launch the SUV with surprising vigor. The same can be said of an AWD Atlas Cross Sport we later tested with the same engine, and that was with regular gasoline. But both of those SUVs are more than 150 pounds lighter than the four-cylinder, AWD Atlas that Managing Editor Joe Bruzek recently purchased. With the extra mass, the SUV needs the driver-selectable Sport mode to feel much punchiness, Bruzek reports, and that's with premium fuel. Stick with regular fuel or regular driving modes — or both — and a four-cylinder Atlas AWD can feel overtaxed.
Volkswagen's optional engine, a non-turbo 3.6-liter V-6 (276 hp and 266 pounds-feet of torque with regular gas), incurs a considerable hit to fuel economy, rated a dismal 18-19 mpg EPA combined. The EPA rates the four-cylinder 22 mpg combined with either driveline, which is more competitive with other three-row mid-size SUVs.
The V-6 isn't as quick as its specs might suggest. When we rated an AWD 2019 Atlas V-6 against six other three-row SUVs, it scored second lowest in the powertrain category. Volkswagen says it altered the transmission's software mapping in the 2018-20 Atlas, but things feel largely the same in the 2021 model we tested. Power is adequate but never exuberant, and I observed some bogging down on part-throttle upshifts during low-speed acceleration. Leadfoot your way into passing maneuvers and the eight-speed automatic will downshift quickly enough, but squeeze the pedal any less than that and it sticks stubbornly to higher gears. 
That said, the V-6 is the strongest choice if you plan on piling in — or hitching astern — extra weight. Maximum towing capacity is 5,000 pounds with the V-6 versus just 2,000 pounds with the four-cylinder. The engine feels well suited for onboard loads, too: I piled seven people and light cargo into Cars.com's 2018 3.6-liter Atlas AWD two years back, and aside from needing a few lower-gear downshifts for highway passing, the V-6 handled the load with little problem.
Updated Driver-Assist Systems
The Atlas adds lane-centering steering for 2021 in the form of Traffic Jam Assist (low speeds) and Lane Assist (higher speeds). Combined, they track mild highway curves fairly well, keeping the SUV on course even when lane markings drop off temporarily for an exit. TJA works well all the way down to a stop, as does the Atlas' adaptive cruise control.
In a potentially helpful but undoubtedly confusing development, VW's lane-centering system will begin to go by the name Travel Assist starting with the 2021.5 Atlas. Volkswagen officials told me Travel Assist incorporates new capacitive measures to detect your hands on the steering wheel, whereas Traffic Jam Assist needs constant steering force to intuit that. We haven't tested Travel Assist, but, like Traffic Jam Assist, it's still a hands-on approach — not the hands-free lane centering offered now or imminently by four automakers.
The Interior: Quantity Over Quality
Aside from a new steering wheel with revised buttons and Volkswagen's updated badge, little has changed inside the Atlas for 2021. Base trim levels get a 6.5-inch dashboard touchscreen while other trim levels upgrade to an 8-inch unit. Ten-inch virtual gauges are available at the top of the lineup. Both touchscreens have standard Apple CarPlay, Android Auto and physical knobs for volume and tuning. Physical buttons join them on the 6.5-inch screen, but the 8-inch unit swaps those for touch-sensitive keys — a fussy setup we bemoaned in our long-term Atlas. The 2021.5 Atlas, meanwhile, upgrades to Volkswagen's third-generation MIB multimedia system, which includes wireless Apple CarPlay and Android Auto. We have yet to evaluate it, but you can learn more about MIB3 here.
Interior quality remains a weakness. Cheap, grainy-looking plastics cover much of the dashboard and doors, especially when you get to the backseat. Many controls — including the drive-mode knob, climate dials and gear selector — feel as rickety as ever, which was a factor in the Atlas earning the second-lowest score for interior quality in our aforementioned comparison. You could do worse, but even versus average interiors in this field (let alone the knockout cabins in high-level versions of the Palisade and Telluride), the Atlas feels a bit low-rent.
That rent sure buys room, though. The second row can be a three-seat bench or two captain's chairs, while the third row seats two. Both rows can comfortably accommodate adults, which is especially rare for a third row in this class. Volkswagen led the field for third-row space and access when the Atlas arrived three model years ago, and no rivals have yet surpassed it: In our SUV comparison, the Atlas ran away with the top score for third-row seating and tied for first place in the second row. All of that space makes the Atlas one of our top-rated vehicles to accommodate child-safety seats.
More good news: That passenger space doesn't come at the expense of luggage volume. Manufacturer-estimated cargo specs have inconsistent methodology, but the Atlas ranked in the upper half of its field in our assessment of luggage space.
Pricing and Value
Including destination, the 2021 Atlas FWD starts around $32,500. Standard features include manual seats and climate control, cloth upholstery, blind spot monitoring, forward collision warning with automatic emergency braking, and the 6.5-inch touchscreen with smartphone integration. The automatic braking can detect both vehicles and pedestrians, but the system hasn't been rated by the Insurance Institute for Highway Safety. The Atlas' excellent 2018-20 crash results do apply to the 2021 model, but the agency told Cars.com that Volkswagen updated the Atlas' frontal crash-protection technologies for 2021, without naming specific changes. It has yet to test the new system.
Climb the trim levels and the Atlas can add dual power seats, vinyl or leather upholstery, the 8-inch touchscreen, heated and ventilated front seats, heated rear seats, the aforementioned driver-assist features and a very good Fender premium stereo. A top AWD trim with all the factory options will set you back just over $50,000 — a reasonable price, given rivals like the Chevrolet Traverse and Ford Explorer can top $60,000. At the other end of the spectrum, you shouldn't have much trouble finding a more affordable Atlas: As of this writing, some 40% of new 2021 Atlas SUVs on Cars.com are listed at or below $40,000.
The Atlas is far from perfect, but its underlying strengths — seating and luggage space, ride and handling— aren't attributes the competition has leapfrogged. The SUV that earned Cars.com's Best of 2018 award and our top family-car award two years later remains an enduring choice for 2021.
Related video:
Cars.com's Editorial department is your source for automotive news and reviews. In line with Cars.com's long-standing ethics policy, editors and reviewers don't accept gifts or free trips from automakers. The Editorial department is independent of Cars.com's advertising, sales and sponsored content departments.
Share