2022 Volvo XC40 Recharge Review: Electron-Powered, Lightning Fast
[ad_1]

The early wave of electric vehicles (EVs) was a depressing time for the enthusiasts, as the plug-in hybrids and traditional hybrids were anything but sporty. A decade down the road, everything has changed.
There are more EVs to choose from in more categories than ever. Even the commuter type-cars, which would normally be boring, slow affairs, are closer to rockets, including the twin-motor 2022 Volvo XC40 Recharge SUV.
The XC40 Recharge was the company's first electric vehicle when it debuted in 2021 (and it was recently followed by the sportback C40 Recharge). It continues to feature one electric motor on each axle for a total of 402 horsepower and 486 pound-feet (lb-ft) of torque. It uses a 78-kilowatt-hour battery that can be charged to 80 percent in about 40 minutes on a DC fast charger, according to Volvo, and it has a range of 223 miles.
That powertrain makes this crossover exceptionally quick, with a zero to 60 miles per hour (mph) time of just 4.7 seconds (though tests by industry experts have proven it even faster). From a standstill it puts an almost uncomfortable level of g-forces on your body, and passing maneuvers are almost as dramatic. Immature drivers will find it hard not to giggle when flattening the right pedal and hearing the whirr of the system.
The XC40 offers one-pedal driving, meaning as soon as the driver steps off the throttle, the vehicle slows down aggressively and regenerates energy. There are several levels, including off, though some may find it enjoyable to get every last electron out of the deceleration using a gauge on the digital driver cluster.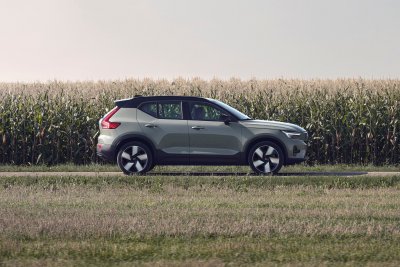 With the weight set low in the vehicle, like most EVs, the XC40 corners excellently, confidently and quietly (though you will hear any tire noise with no engine to cover it up). The steering doesn't transmit much of the road into the driver's hands, but it is both quick and accurate.
There are three trims for the 2022 XC40 including Twin, Twin Plus and Twin Ultimate. The most expensive Ultimate version adds useful features like keyless entry, power tailgate, its Pilot Assist driver assistance system, the heat pump that helps heat the car and save range, premium audio, a surround view camera and 20-inch wheels. It's a $6,450 premium over the base price of $52,795.
The Recharge's independent suspension is a little stiff over less-than-perfect pavement, and those 20-inch wheels don't help. It does, however, have enough ground clearance to tackle some light off-roading and power certainly isn't a problem. Buyers in states with less than four seasons, and therefore better roads, won't have an issue.
The Volvo XC40 uses the Google Android operating system for its in-car infotainment including on the 12.3-inch driver cluster and 9-inch central touchscreen. The system features four quadrants on the home screen, which can always be reached with a touch of the main button.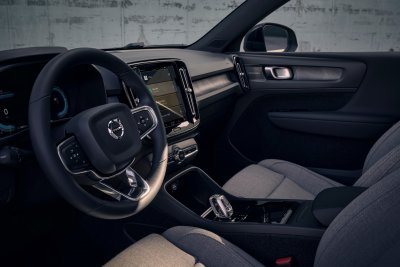 The system takes some getting used to, but after a few days owners should have all of the important features mapped out. Both the central and driver's screen are high-fidelity and snappy with their operation. Its cabin comes standard with four USB-C ports.
There's only one real dial, for radio volume. Climate and other features are all done within the infotainment screen, which is harder to operate than physical controls while driving and takes some getting used to.
The leather- and suede-wrapped seats are snug and comfortable and hold the driver in place well when accelerating at electrifying rates. There are plenty of storage areas front and back, and wireless smartphone charging is standard.
The back seat is fine for adults or teens, though like many of these small crossovers it feels a little tight with child seats. They were easy to attach, with small covers for the latch points in the back seat.
When it comes to competition, the XC40 will probably be penalized by its shorter range (223 miles). It will split sales with the Mustang Mach-E (260 miles on a charge in base trim), Jaguar i-Pace (234 miles), Audi e-tron (218 miles) and even the Tesla Model Y (303 miles).
However, the 2022 Volvo XC40 Recharge is priced competitively with a base of $52,795. The larger Mustang Mach-E is a little less expensive at $44,995; but the compact Audi e-tron ($65,900), Jaguar i-Pace ($69,900) and Tesla Model Y ($62,990) are all more costly. Of that group, buyers will have to take a hard look at the Ford, but this Volvo should also be high on the test drive list.
[ad_2]

Source link