Range Rover vs Bentayga, Cayenne and S-Class group test review
[ad_1]

Range Rover goes up against the important rivals
Bentayga, Cayenne and S-Class here to rough it up
Can the Rangie survive our rigorous tests?
Genuine icons? They're few and far between. Porsche has at least one, and so too does Land Rover. Its flagship, the luxury- meets-utility Range Rover, may be more than half a century old but it's only now into its fifth iteration. Trends, corporate owners, rivals, Prime Ministers – they come and go yet the Range Rover remains; aloof yet desirable, aspirational yet practical, contemporary yet timeless.
Tempting though it must be to consider your icon a creation beyond compare, Land Rover has resisted such complacency, and with good reason: the luxury SUV sector heaves with quality rivals and glittering debutants (here's looking at you, Lotus and Ferrari).
We know from our first drive that this new Range Rover is much more than a cut-and-paste exercise in marginal gains. Instead it looks, smells, feels and drives suspiciously like a masterful re-interpretation of a half-century-old formula, one that retains the type's trademark style, comfort and off-road ability while also fixing the only real chink in its armour, namely its on-road driving dynamics. Can it really be that good? Today we'll find out.
Where just an hour ago the Peak District was devoid of colour – a monochrome wilderness under a slate sky – dazzling spring sunshine has since brought the place to life. The myriad ochres of the moors pop with the vivid yellow of flowering gorse and the emerald green of fresh growth. It's a landscape of remarkable beauty and one in which it's easy to lose yourself, particularly from the Range Rover's throne-like driver's seat. There I am, left arm on the armrest, happily lost in peaceful contemplation, when two bombastic V8s roar past in a wall of stereo noise. The Cayenne (here to put the Range Rover's new-found on-road flair in perspective) and the Bentayga (for most the definitive luxury SUV), bored of my pedestrian pace, lunge ahead before bobbing out of view over the next crest. Meanwhile, Mercedes' own luxe limo – the S-Class – will waft in later to throw the Rangie a curveball. Game on.
Test 1: Porsche's Cayenne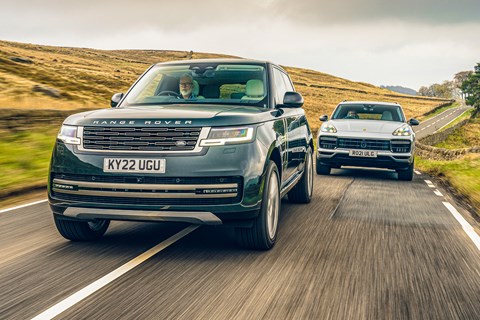 Being a diligent sort of chap, I was sure to drive the outgoing Range Rover before meeting its replacement. It was as I remembered, lovely, but only after I'd recalibrated. For time immemorial Range Rovers have demanded a certain driving style, one that needn't be slow but should blend a slow-in, fast-out strategy with inputs smoother than Jenson Button in baby oil.
To an extent this remains true of the new car, certainly in this hard-hitting company. But swift road driving is no longer beyond Land Rover's storied flagship.
'The body control is night-and-day better than the old car,' agrees Alan Taylor-Jones, who's already logged hours of flight time in this D350 HSE by the time we meet in the Peaks. 'But I love that it hasn't lost that Range Rover character. There's still more bodyroll than you'll find in either the Porsche or the Bentley, and after a yump there are one or two rebound movements before it settles down. But that feels entirely appropriate and the rear-wheel steering is a revelation, massively boosting the car's agility and making it infinitely more manoeuvrable in tight spots.'
Ducking off the main road north to Buxton, the Range Rover laps up the twisting B-road that heads west for Longnor. The topography grows increasingly dramatic, with stacks of hairpins cascading into sheer-sided valleys. The road surface endlessly strobes between immaculate and abysmal. And yet the Range Rover remains imperious and hugely satisfying to pilot, retaining its classic USPs – fabulous sight lines, iron-clad straight-line stability, an astonishingly good ride and ground clearance so high you'll never have to worry about bottoming out – while layering on its new tricks of outlandish low-speed agility, confidence-swelling body control and deft, accurate steering that feels beautifully in-phase with the way the car moves on its air springs and active anti-roll bars.
'We're hauling!' you think to yourself. Then the Porsche streaks past.
The new Range Rover isn't trying to be a Cayenne (though plenty of people cross-shop the two) but the plug-in Porsche is a timely reminder that everything's relative. The new Range Rover handles beautifully for a Range Rover, and well as for an SUV. The Cayenne simply handles.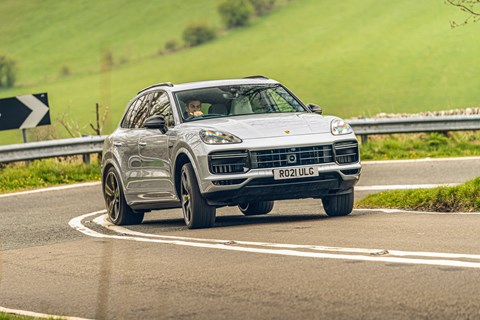 The Porsche doesn't so much rise to the challenge of these tricky moorland roads as eviscerate them, swallowing ambitious corner-entry speeds and unprompted changes of direction without complaint. It drops the Range Rover instantly and gaps the Bentley moments later, not least because the Porsche goes without the layers of driver/road insulation that make the other two so comfortable. The upside is huge (sometimes too huge…) confidence on these give-and-take roads.
The Turbo S E-Hybrid is also in possession of outlandish electro-mechanical torque, with a ferocious 664lb ft to the Bentley's 568lb ft and the Range Rover's 516lb ft. It's the kind of urge that flattens hills, compresses time and scatters your shopping all over the car. Assuming you're in either Sport or Sport+ mode (the handover between e-drive and the V8 is less than seamless in Hybrid, perhaps because the V8 is simply massively more potent) the low-rpm drive is deliciously soft and generous, like a king-sized mattress of motive marshmallow. But don't be deceived. Effective though this kind of low-effort progress is, it is but the tip of a monolithic iceberg. Get busy on the shift paddles, let the revs build and the rate of acceleration takes on a surreal violence north of 5000rpm, the electric power and eight flailing pistons working in concert to leave you either speechless or swearing profusely.
Greedily tapping into this performance ought to be terrifying but there's nothing remotely terrifying about the Cayenne, so capable is the chassis. The Cayenne boasts fine steering, epic brakes, mighty body control and a hugely entertaining, rear-biased all-wheel-drive powertrain that'll even slide on demand, should you slacken the electronic stability control.
All of which leaves the new Range Rover more than a little bemused. Despite its stiffer structure, all-new suspension, faster-acting electronic roll control and new rear-wheel steering, it does not topple the Cayenne as the posh SUV performance benchmark. And it was never designed to, of course. If you need a big SUV and still love driving like your trousers are on fire, Porsche is ready and waiting for your deposit. But the Range Rover drives as well as it needs to, and it does so with a character all its own. The unrelentingly focused Cayenne also has no answer for the Range Rover's first-class cabin space, mighty off-road ability, serene ride comfort or hushed, hear-a-pin-drop refinement on the move.
Read our Porsche Cayenne Turbo S E-Hybrid review
Test 2: off-road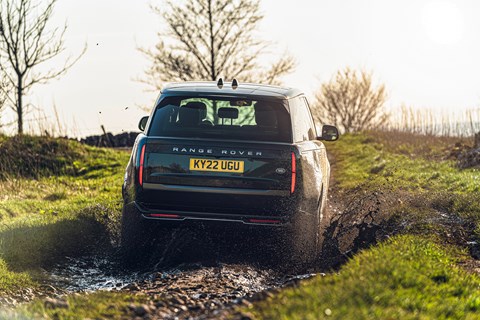 Boyd and I have known each other years, so I know to fear the grin. He lives in the Peak District, leads off-road tours in the area and knows these trails, tracks and byways like Tim Peake knows the ISS. And in the past that grin has always preceded the really brutal bits; the climbs like a cliff face and ruts deeper than the Mariana Trench. Boyd's on his trusty XR Honda, I'm in the Range Rover and he's just grinned…
First job: configure the car. I glance down at the control panel and, with a sigh of relief, remember that it's now intuitive. In the previous car, as new infotainment systems were layered on top of a dated architecture, there were some less than intuitive procedures. No more. In seconds we're into Mud and Ruts and the suspension's in full Baja. Let's get after that Honda.
The mild-hybrid diesel six gives a delicious little shudder of effort, the gearbox effortlessly glides through its first couple of ratios (no need for the low-range 'box today, though it's there should the brown stuff hit the fan, as are locking differentials) and we biff up the first few dust-baked tracks like a Belgravia green force of nature.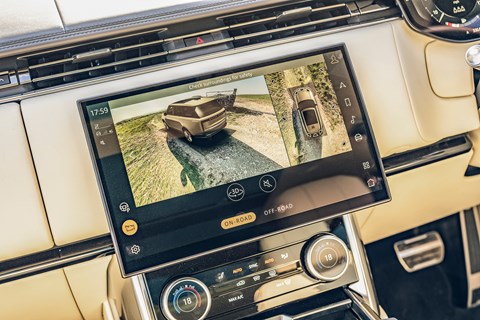 It's hard to know where to heap the praise most lavishly, so comfortable is the Range Rover in this environment, but the ever-busy air suspension does a lot of heavy lifting, as does the remarkable engine. The D350 makes as much torque as this new Range Rover's headline engine option, the BMW-derived twin-turbo P530 petrol V8. It's a gorgeous, gorgeous engine, one made all the more appealing by its potential for 30-35mpg and an intergalactic range between fill-ups. Pretty key too is the Rangie's footwear. Where the other two cars ride on ferociously expensive-looking rims and low-profile rubber, the D350's on fat-walled 285/45 Pirelli Sottozero tyres. They bring peace of mind, all-terrain grip and real versatility.
The good stuff keeps on coming: wild climbs that give way to stunning, big-sky panoramas; fast gravelled tracks down which we fly like a 2.5-tonne comet; and, where water remains, fords that serve to rinse some of the filth from the Range Rover's chiselled surfaces, if only very briefly.
We learn three things: that a £120k Range Rover can't keep up with a £5k Honda on the rough stuff; that despite the endless 'modern luxury' spin this remains a true Range Rover – a go-anywhere behemoth limited only by your bravery; and that it grows more handsome the dirtier you get it.
Land Rover's ClearSight technology: does it work?
Test 3: Bentley's Bentayga
Heading into the Peaks from Crewe, where this Bentayga S was built and where I was handed its deliciously weighty key, the A34 rears up towards the high ground that, for perhaps 10 miles now, has grown bigger and bigger before coming to completely dominate the skyline.
There's a blanket 50mph limit which, given the myriad blind entrances and farm gates, doesn't feel like a bad idea. And so tight and stuffed with fierce gradients is the road that actually holding 50mph is pretty good going. Correction: 50mph is pretty good going in a normal car – the Bentley isn't even at a canter. And it'd really rather crack on.
With clear road ahead and the Bentley's twin-turbo V8 uncorked (same fundamental engine as the Cayenne's, though without hybrid assistance) we gain altitude so fast I feel like I need g-pants and an oxygen mask. It's easy to get sniffy about the essential conflict at the heart of the performance SUV concept, but the Bentley squares the circle so convincingly you can't help but jump down from your high horse and admire the thing.
The elevated seating gives you visibility you wouldn't have in a sports saloon, a hot hatch or a sports car, and it's pretty fundamental to the Bentayga's crushing cross-country ability, the better to let you plot your flightpath through the curves and stragglers ahead. At the same time the ground clearance keeps the car's chin off the tarmac even during the kind of vicious, damper-bashing compressions to give a WRC sump-guard nightmares. To this armoury the Bentayga adds miraculous body control, an embarrassment of grip and endless performance from its velveteen sledgehammer of an engine.
It's fun, too, believe it or not, the Bentayga on a charge filling your ears with delicious noise and milking your happy glands with its composure, agility and, should you time your throttle-lift and steering lock just so on the way in, its unlikely adjustability. That last trait is best experienced in the Bentayga S, essentially a Bentayga handling pack that adds a more purposeful chassis tune, fruitier exhausts and a more laissez-fair ESC calibration. The ride quality is perhaps mildly compromised (you'd need a back-to-back test with a non-S to be sure), but the Bentley is no one-dimensional blunderbuss. It doesn't require speed and effort to make sense, being more than happy to short-shift just off idle, wind its endlessly adjustable bouncy bits off to full luxe and cruise.
The only thing missing is a well-calibrated rear-steer system, though it'll be standard on the Extended Wheelbase version that arrives later this year. That said, the Bentley does change direction with a deliciously consistent, deliberate accuracy that eludes all but the best rear-steer set-ups.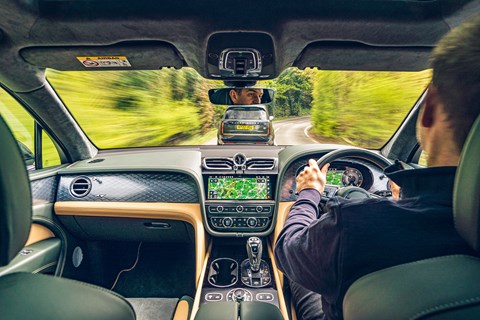 The Bentayga didn't exist when this Range Rover's predecessor, the L405, launched back in 2012. Land Rover no doubt wishes that were still the case. As the Range Rover has chased luxury deep into six figures with each new generation (this new car's pricing starts just shy of £100k, and SV will help you nudge your Rangie's with-options price north of £200k), so the Bentayga has emerged as the Range Rover's truest rival. Want a rapid and roomy SUV with an aspirational badge? The Bentley has to be in the conversation.
If Land Rover wishes the Bentayga didn't exist, it's impossible to imagine modern Bentley without it – Crewe's SUV is both the cornerstone of its current success and bank-roller of its expansion. It saw the marque through the dark days of 2018, when cash-hungry development work on the new Flying Spur and Conti GT and certification nightmares saw the brand post big losses – an ultimatum from the VW Group duly followed. It's also seen Bentley out onto the sunny uplands in which it now finds itself, with record profits and the Bentayga not only doing the SUV sales heavy lifting but, in new Extended Wheelbase form, also stepping up to fill the vacuum left by the departed Mulsanne.
It's hard to imagine two cars more alike on paper but more opposed in feel and character. If the Range Rover is modern luxury – impeccably presented and hugely capable, if a little aloof – the Bentayga is a bombastic bon viveur; a cad and, indeed, a bounder of a car. Choosing between them is like choosing a best man: your mum will love the Range Rover, and its speech won't chuck you under the bus. But the Bentley won't be satisfied until everyone's dancing and the bar's acquiesced to a lock-in.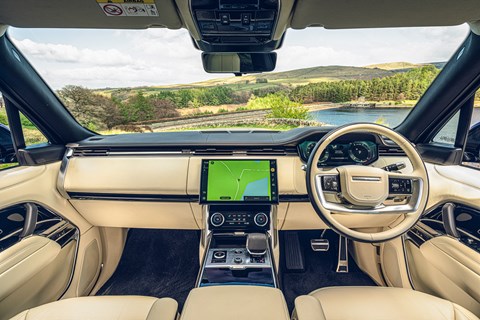 The Bentayga was comprehensively overhauled in 2020, with new exterior sheet metalwork, an updated cockpit and tweaks to the chassis. Snug behind the wheel it feels nothing like the clean, spacious Range Rover. This is more high-rise GT, with a small-diameter, fat-rimmed steering wheel, a broad and high centre console under your left elbow and an interior for which the word cockpit is entirely apt. The displays are smaller and busier than the Range Rover's, if no less classy and just as intuitive to use. Voice control is better, if anything, if still some way short of the MBUX set-up in telepathic S-Class.
There's a Bentayga Hybrid of course, accounting for a quarter of global sales, but it's hard to look past the V8, so fundamental is this charismatic engine to the Bentayga's big charm and depth of character/split personality. With everything ratcheted up and some revs on the dial, the Bentley makes a good fist of keeping the flying Porsche honest, with a make-it-up-as-you-go-along fleetness of foot absent in the Range Rover. But equally the Bentley revels in the role of unhurried express, making smart progress on barely any revs as the chassis and sheer momentum of the thing remove most of the bumps, ripples and discomfort from the task of covering big road miles.
With hot engines and even hotter brakes, the Range Rover and Bentayga purr through teatime Buxton. The sun's out, the queue for the chip shop snakes around the block and every outside pub table is taken. No one looks at the Range Rover; all eyes are on the Bentley. In both cases that's proof of a job well done. The Bentayga is an extrovert, and hugely charismatic once you've adjusted to its size and sheer value. The Range Rover is altogether more restrained, discreet and understated, and no doubt a more practical, versatile vehicle as a result. You'll know far better than I which is the right car for you – though, as with the Cayenne, it's worth noting that there's quite a bit that the Range Rover does better than the Bentley, not least offer a nicer rear-sear passenger experience, a quieter, more comfortable ride and, with these engines at least, marginally less painful fuel bills and a greater between-fills operating range.
Read our Bentley Bentayga V8 and S review
Test 4: Mercedes' S-Class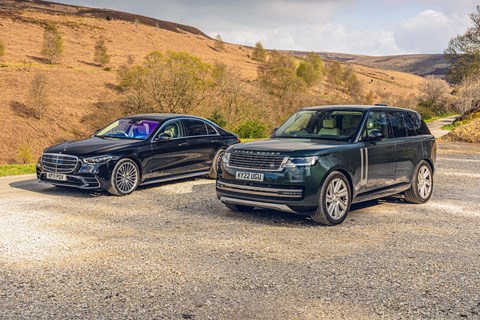 Just as TV killed the radio star, so the SUV killed the luxury saloon. Even Rolls-Royce now makes an SUV, and so meagre had sales become in the end that when Bentley finally retired the Mulsanne it chose not to replace it like-for-like. Instead, Crewe will sell you a Flying Spur or, more likely, the new Extended Wheelbase Bentayga.
The Range Rover's evolution doesn't look good for the likes of the S-Class, either. It arrives with a choice of standard or Long Wheelbase bodies and Land Rover's SV division is on-hand to both make real your dreams and drain your wallet, with options running from drinks fridges and pop-out tables to fine marquetry and dazzling material combinations.
But there's still much to recommend a good luxury saloon, and this new-ish S-Class – here for a brief visit to gatecrash our luxury SUV triple test – is a very good luxury saloon. Presented here in range-topping Premium Plus Executive specification, the Mercedes looks like good value next to the Range Rover (S-Class pricing starts at £79k, though this one will set you back £102,355). The two also have much in common, including cossetting air suspension, miraculous rear-wheel steering, flawless automatic gearboxes so intelligent the shift paddles feel superfluous, and beautiful straight-six diesel engines a world away from the clattering, smoke-belching monsters of yesteryear.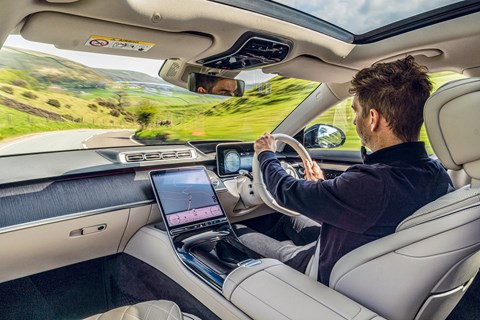 The S-Class is a lovely place to be, whether you're up front with the small, fat-rimmed steering wheel in your hands, or stretched out in the back, idly gazing out at a view framed by the delicate, feline curve of the C-pillar. The S is in no way sporty but, like the Range Rover, it's an unhurried progress specialist, covering ground with a long-legged athleticism that has you dreaming of long drives, big skies and exotic destinations. The Mercedes six is around 50bhp down on the D350 Range Rover but some half a tonne lighter, too, and if Colin Chapman taught us anything it's that carrying less weight never stops being a good idea. Its lower weight and more slippery shape also combine to give the Mercedes a telling efficiency advantage, with the saloon promising to go nearly 10 miles further per gallon.
That said it's the Range Rover that's happier to press on should the mood take you, the S becoming increasingly uncomfortable as you try to persuade it out of its comfort zone. And why would you? Not least because you'll likely get a clip round the ear from those in the back.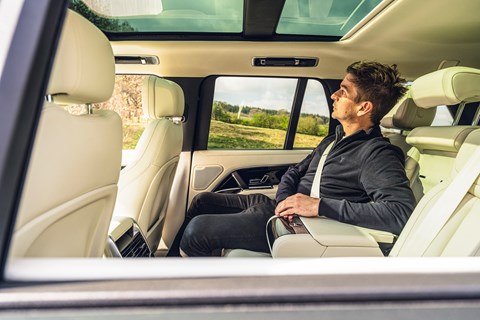 The rear-seat winner? In these specifications it's close, with the Benz offering the nicer space (it's cosy without feeling cramped, and offers more sumptuous seating) and the Range Rover countering with its superior ride quality (no amount of engineering can overcome the disadvantage intrinsic to the Merc's low-profile rubber) and elevated view of the world outside. A Long Wheelbase, particularly in four-seat guise, would seal the win for the Range Rover, but at a price.
The Range Rover/S-Class dilemma plays it out in real time during our time in the Peaks. For most of the day the plan has me down to drive the S-Class home, a journey of some two hours after a long day and little sleep the night before, and I'm pretty chuffed with that. Then things change, the plan evolves and, on empty roads and with the sky ablaze with a spectacular early-summer sunset, I find myself heading home in the Range Rover – and I can't disguise my glee. The miles melt away and, when I finally nose through my front gate, I'm disappointed the journey's over.
Says it all.
Read our Mercedes S-Class review
Want to go large?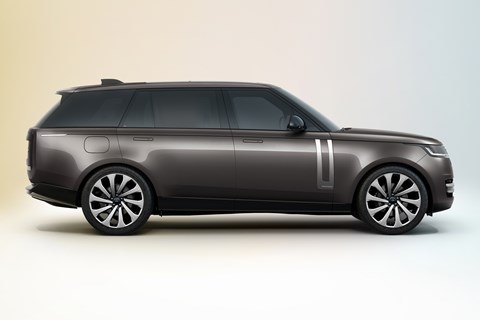 Range Rover will sell you a Long Wheelbase with four, five or seven seats.
How luxurious?
Hugely. Already 75mm longer between the wheels than the Mk4, the new car gets a further 200mm in LWB guise. The roominess is matched by the comfort.
How much?
From £107,675 for the seven-seater. Four/five-seater is only in plusher trims, from £125k.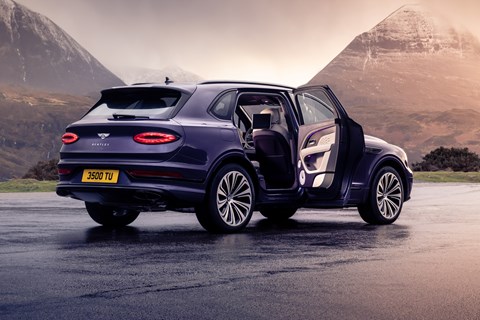 The Mulsanne is dead, long live the Bentayga EWB – an ultra-plush creation with truly epic legroom.
How luxurious?
A 180mm stretch – all in the rear cabin – allows a choice of five-, four- and four-plus-one seat configurations. Full-recline, airline-style seats are an option.
How much?
Expect an increase of 15 per cent over a regular Bentayga.
Range Rover vs rivals: the verdict
These three represent a sliding scale from luxury to performance, with the Range Rover and Cayenne bookending the best-of-both-worlds Bentayga. That may be all the answer you need, in which case perhaps you'd like a refund on the issue and the last half an hour of your life.
Stick with me, though – it is a slightly more nuanced story than that; certainly when it comes to the Bentley and the Range Rover.
If you'd be driving a 911 were it not for infant and canine hangers-on, get the Cayenne – though perhaps not this Cayenne. The Turbo S E-Hybrid's strengths and weaknesses make it an answer to a very specific question, and you'll likely be happier with a non-hybrid, less expensive version.
Effective as a short-range EV or a petrol-electric thug, the S E-Hybrid is least satisfying as a hybrid. But regardless of powertrain there's real quality to the Cayenne's chassis, which plain ignores all the physics we can remember from school and manages to feel like the lightest car here despite being the heaviest. By consensus it places third.
'The Porsche is easily the quickest and most dynamic machine here, but speed and cornering prowess are just two of the many requirements a car like this should possess,' muses Ben Whitworth. 'In this company it's harsh and brutal, with a hybrid system that lacks operational fluency and a ride quality that constantly jars.'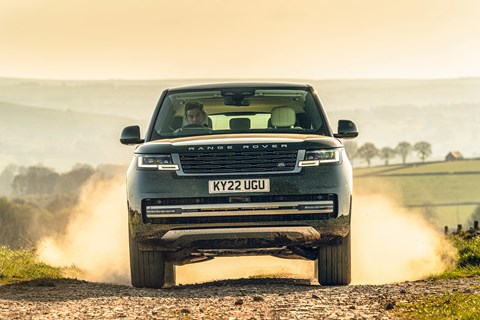 When pushed for a podium the pecking order is the same for all our testers: Range Rover, Bentayga, Porsche. It's a win for the newcomer, then. But you should, before signing on the line, be sure you don't want the Bentley. While not a fan of the way it looks, inside or outside, Ben's effusive in his praise for the Bentayga as a driving machine. 'It edges the Porsche and gives the Range Rover a tough time with its versatility. The ride quality is impressively compliant but not at the expense of control, sponging away imperfections while still keying you in to the road. And while you won't see which way the Cayenne went, the Bentley's V8 is creamy at low speeds, crisp as you extend it and has the grunt to make short work of slower traffic.' You might reason that you don't need the firmer, shoutier S, either, given that there's little wrong with the 'base' V8.
Ultimately the best car here is the Range Rover. It's as comfortable (in the front and the back) as an S-Class, hugely satisfying to drive on the road and horizon-broadeningly capable off it. Handsome without being brash, its progressive take on luxury feels beautifully judged in the current zeitgeist. It is a machine of uncluttered, effortless capability, almost regardless of the job at hand. Though it can't get you places anything like as quickly as the Bentley or the Porsche.
'The Range Rover's nowhere near as quick as the other two but it strikes an excellent, almost languid compromise between waft and body control,' notes Ben. 'The engine is smooth, refined and muscular, the rear-wheel steering usefully shrinks what would otherwise feel like a very bulky and cumbersome car, and the calm, decontented interior is incredibly inviting.'
Our only reservation is reliability, a perennial Land Rover concern and one that CEO Thierry Bolloré has made his mission to put right. One of the launch cars we drove (not the one you see here), while running faultlessly, displayed an erroneous ambient temperature and an engine warning light. An early-car glitch, perhaps. Certainly this remastered Range Rover, so complete as it is in most every other regard, deserves better.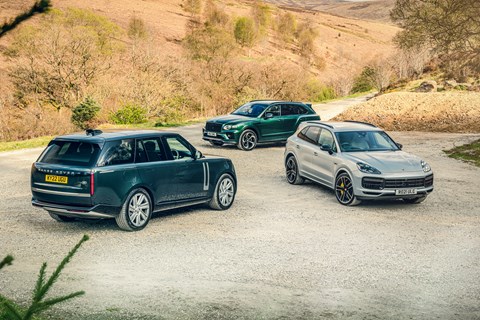 Range Rover
★★★★★
Bentley Bentayga
★★★★
Porsche Cayenne
★★★★
Specs
Range Rover D350 HSE
Price £107,300 (£116,005 as tested)
Powertrain 2997cc 24v turbodiesel straight-six, eight-speed automatic, all-wheel drive
Performance 345bhp @ 4000rpm, 516lb ft at 1500rpm, 6.1sec 0-62mph, 145mph
Weight 2430kg
Efficiency 36.0mpg (official), 29.9mpg (tested), 206g/km CO2
On sale Now
Bentley Bentayga S
Price £182,300 (£217,690 as tested)
Powertrain 3996cc 32v twin-turbo V8, eight-speed automatic, all-wheel drive
Performance 542bhp @ 6000rpm, 568lb ft @ 1960rpm, 4.5sec 0-62mph, 180mph
Weight 2416kg
Efficiency 21.7mpg (official), 14.6mpg (tested), 294g/km CO2
On sale Now
Porsche Cayenne Turbo S E-Hybrid
Price £129,210 (£146,319 as tested)
Powertrain 3996cc 32v twin-turbo V8, 17.9kWh battery, PHEV, eight-speed automatic, all-wheel drive
Performance 671bhp, 664lb ft, 3.8sec 0-62mph, 183mph
Weight 2535kg
Efficiency 74.3mpg (official), 23.1mpg (tested), 87g/km CO2
On sale Now
[ad_2]

Source link